Clean sweep for Labour at Biddulph by-elections
By Richard Price - Local Democracy Reporter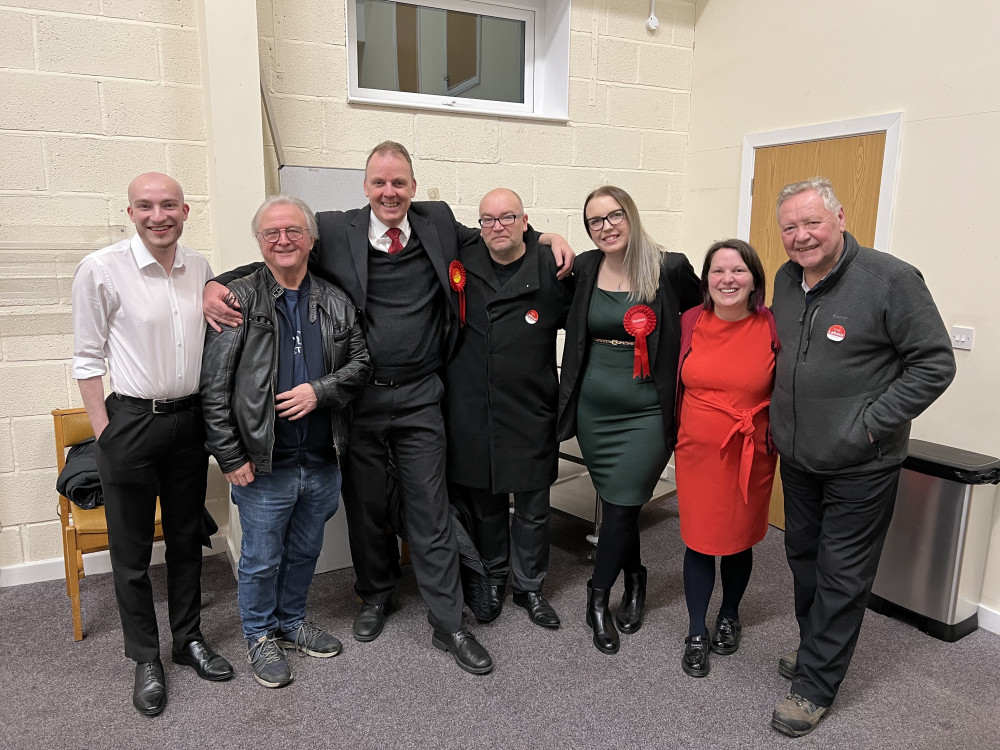 Labour Party members (Richard Price).
Labour won a clean sweep this month across two by-elections in Biddulph.
There were three seats up for grabs – two on Staffordshire Moorlands District Council and one on Staffordshire County Council.
Nigel Yates won the county council seat, while Charlie Smith and Dave Proudlove won seats on the district council.
Results below…
Biddulph North (Staffordshire County Council)
Nigel Yates won the Biddulph North by-election, and will now join Staffordshire County Council.
He won with 931 votes (49%) with independent candidate Andrew Hart on 493 votes (26%) and Conservative candidate Rathi Pragasam on 458 votes (24%).
There were six rejected ballots: two where the voter had chosen more than one candidate, and four which were either unmarked or uncertain.
Overall turnout was low, which was likely due to heavy snowfall earlier in the day – resulting in only 1,888 people (19.2%) of the ward's 9,855 voters casting their vote.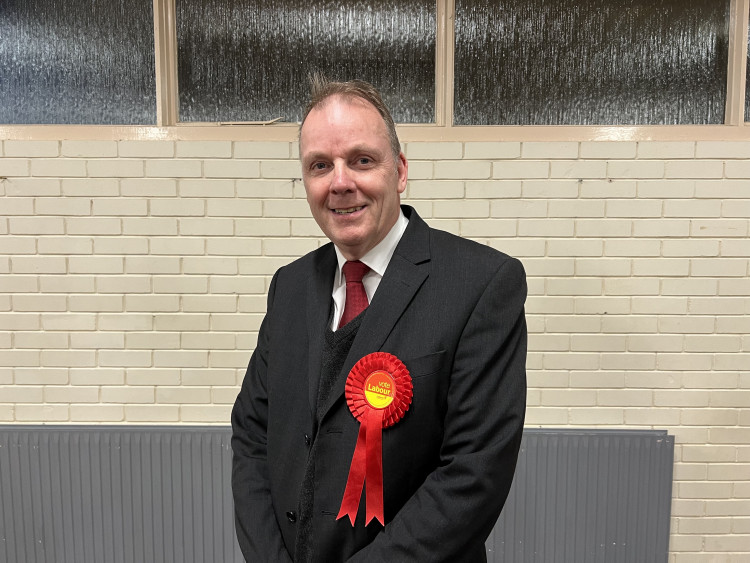 Nigel Yates (Richard Price).
Cllr Yates – who is also a town and district councillor – said: "The thing I'm really pleased about is the fact that there's now a councillor who represents town, district and county who can present the plans from district and county to town council level, so they can have a say before things start, and hopefully steer the right decisions being made at those levels of government."
He was born and raised in Biddulph, and describes himself as being absolutely passionate about the area.
Cllr Yates said he wanted to make sure Biddulph is no longer a forgotten town.
He said: "I'm very conscious that we're on the north-western fringe [of Staffordshire], we've got one main road and it's not a trunk road or anything so people don't really pass through.
"I've got to be the voice for Biddulph, and I can assure everybody that once I get to the county council every single person in Staffordshire will have heard of Biddulph.
"My plan is to build a working relationship with all the teams who come and visit and make sure they're all there to do the jobs."
He said he felt the result had come about due to the hard work of Labour Party colleagues within the community.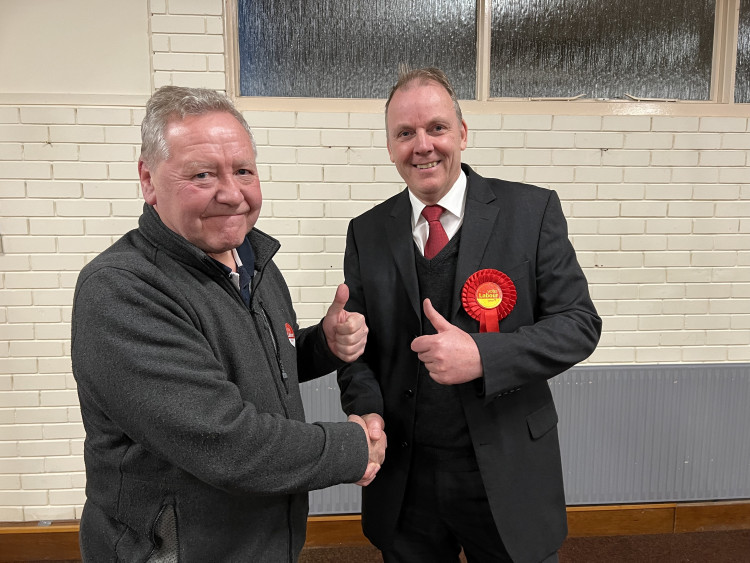 Nigel Yates With Mike Gledhill (Richard Price).
He takes over from Conservative Ian Lawson, who died in October following a lengthy illness.
The late Cllr Lawson had represented Biddulph North on Staffordshire County Council since 2009.
Biddulph West (Staffordshire Moorlands District Council)
Meanwhile, Charlie Smith and Dave Proudlove won seats for the Biddulph West ward on Staffordshire Moorlands District Council (SMDC).
They received 364 votes and 288 votes respectively.
Independent candidate Neil Eardley received 226 votes, Conservative candidate Rathi Pragasam received 185 votes, independent candidate Alistair McLoughlin received 154 votes and Green Party candidate Ian Waite received 61 votes.
A total of eight ballots were rejected.
Overall turnout for this contest was also low, with 721 people (17.9%) of the ward's 4,039 voters opting to support their chosen candidates.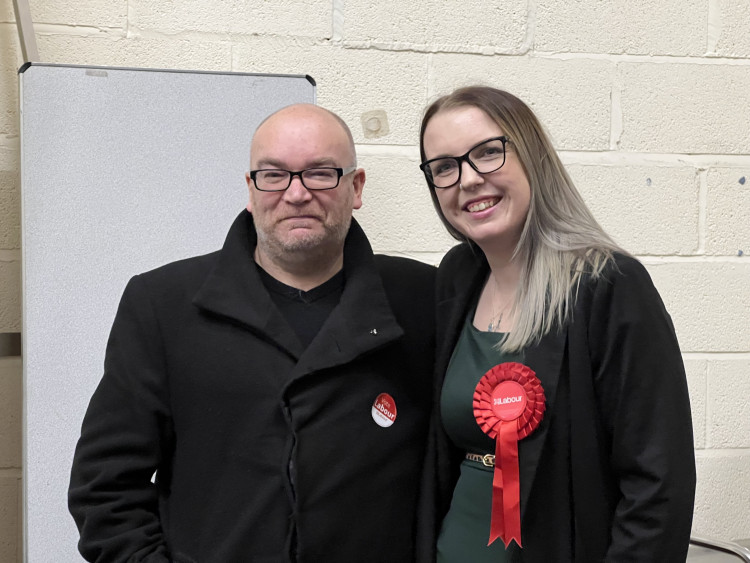 Dave Proudlove And Charlie Smith (Richard Price).
Commenting on her new role, Cllr Charlie Smith said: "The priority really is the cost of living crisis, and making sure there's an adequate response from SMDC with regards to that.
"We've put a lot of miles in during this campaign, and the response we've got on the doorstep has been really positive.
"People are saying they're looking for us to represent them and not let us keep being the forgotten town. We're going to be there to advocate for them."
Cllr Smith lives in Knypersley and has been a town councillor since 2019.
She volunteers at Biddulph's food bank and is currently a student social worker – due to graduate later this year – and has two young children who attend local schools.
Joining her is Cllr Dave Proudlove who said he wants to raise aspirations for the area.
He said: "I live in the ward and I'm going to work hard towards supporting my fellow residents. People are struggling, people are going through hard times.
"Looking at the bigger picture, I want to see the town centre economy rejuvenated.
"The high street could and should have a lot to offer. I don't think the district council has been ambitious enough for Biddulph."
Cllr Proudlove said he was disappointed that a levelling up bid had not been put forward on Biddulph's behalf, and commented that he would use his new role to ensure the town is considered for future funding rounds.